(land agency is pretty fragile)
An on pause, works in progress show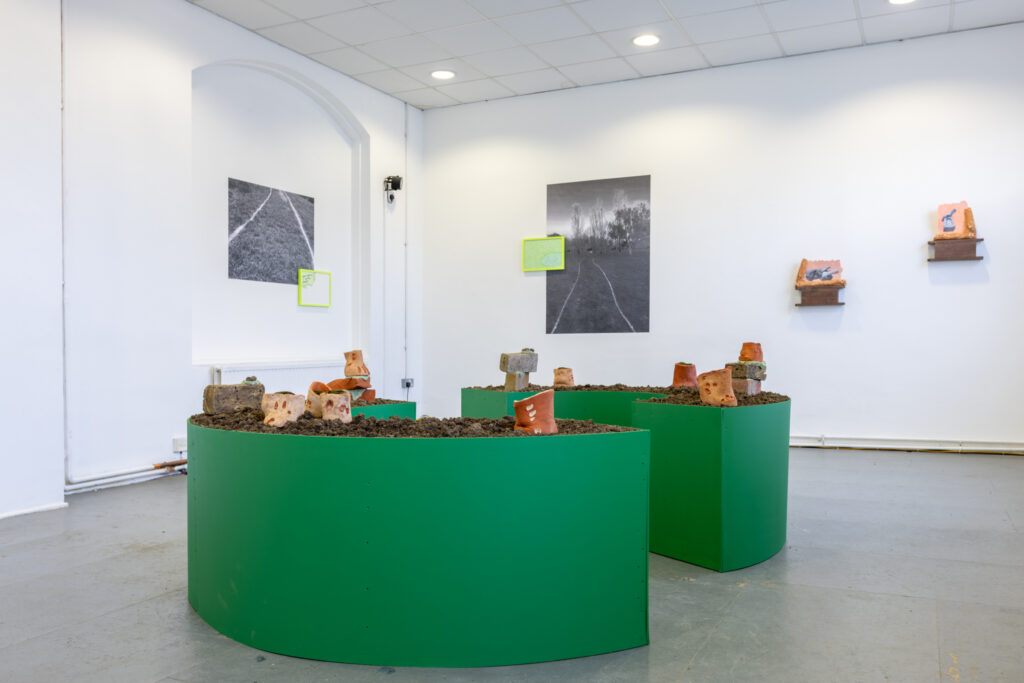 "At the end of each day there is a tenseness in my back, that soon becomes a permanent fixture. I cannot work out whether it is the bulging disc returning, the hard working of my core, or an anxiety about the project, its length, the duration my body will have to bear. My skin is sandpaper, my nails crack off, bones aching, my knees click in new ways when I move. At night I reach out to touch Del's hand, he says: you feel different, I say: I do."

~ Excerpt from accompanying Made from this Land book
IN STASIS… is a works in progress show of artworks created while the public sculpture project Made from this Land is on pause. The commission, conceived in response to Southchurch and Thorpe Bay's rich brickfield history, was planned to be launched in June 2023.
A musing on power, politics and land rights the show will include prints, drawings and sculpture made whilst working on the commission and in response to its current state: in stasis. What do you do when external powers pause a project? Make, mulch and respond. IN STASIS… is that response.
"Bricks are almost always directly linked to the state of the nation. You can tell the state of the economy, and society, by the demand for and conversations around bricks."

~ Excerpt from accompanying Made from this Land book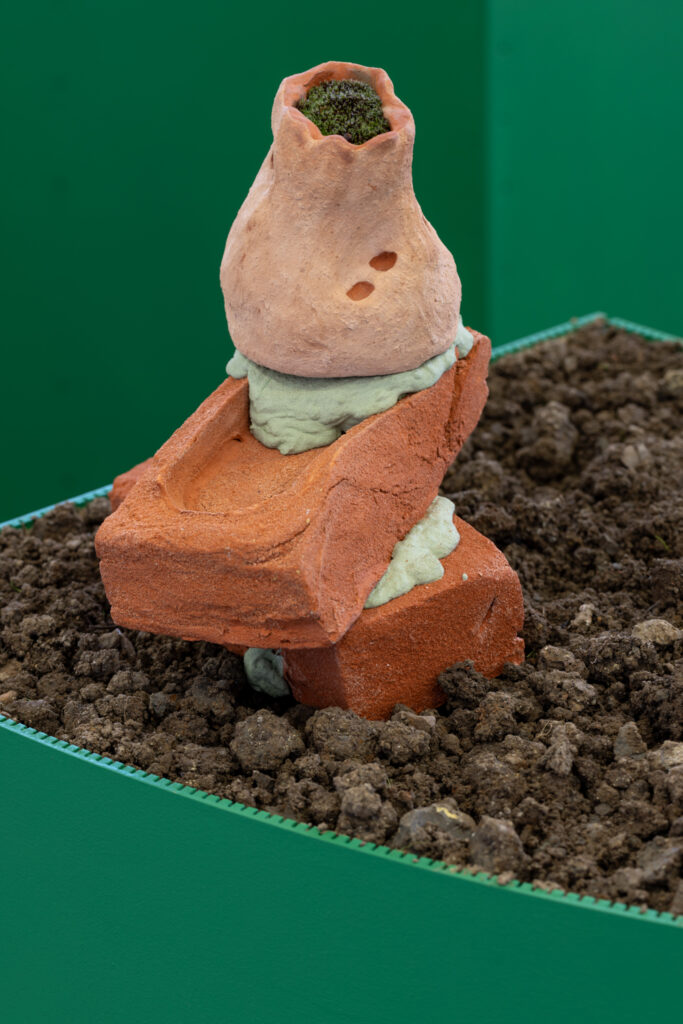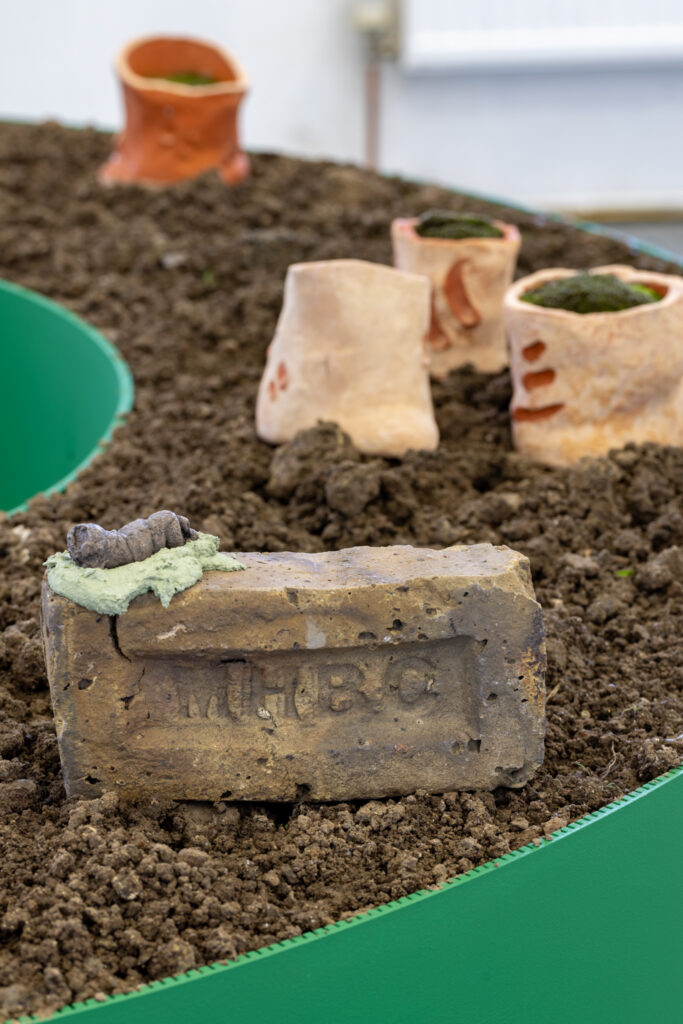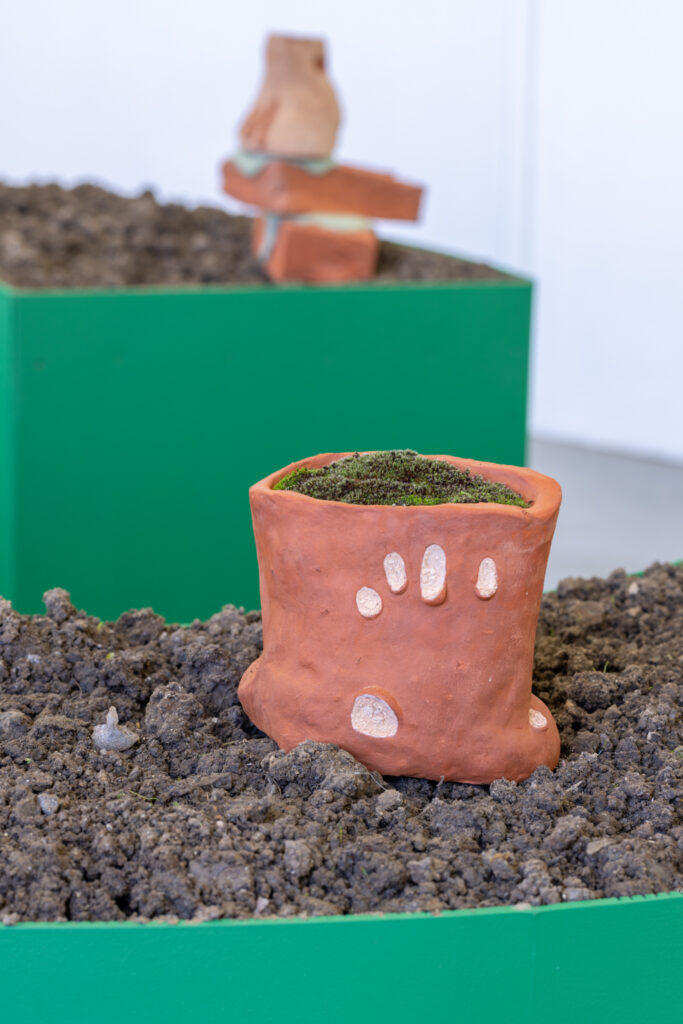 'IN STASIS'
MDF, grass green household paint, local Southend fired bricks, tinted mortar, Jesmonite flex metal cast in bronze of Woolf's shits, weathered Southchurch Park East clay pots with seashell slash oyster slip, moss collected from outside Southend City Council offices and raw unprocessed clay from Southchurch Park East. (2023)
A collection of pots made while waiting for decisions to be made in council meetings and behind the scenes at Southend City Council. Pots were often made with excess clay on historical brickfield sites as a way to pass the time, and also generate new income. These pots are made from weathered clay. The clay has not been processed so when fired in the kiln cracks appear where stones or other materials stayed in the clay body, seeping into the surface and reacting in different ways under the heat of firing.
The precarious nature of weathered clay, and the lack of control over the outcome when using such material, embodies the arc of the project and the precarity of land rights.
These pots are filled with moss collected from outside Southend City Council's offices. Moss is a non-flowering plant which doesn't have true roots, meaning it can be shifted and moved, never fully embedded on its site.
These works lay on a bed of raw clay in a wooden sculpture in the form of a fractured roundabout. This display nods towards the never ending circularity of the project and also Essex's obsession with roads, and land rights, with the circle split down the middle to reference the chasm of the pause and how we might sit in stasis.
'Call that art? It looks like a pile of bricks! (edited)'
Two tone risograph print of edited newspaper article from Southend Echo newspaper. (2023)
An edit of a Southend Evening Echo newspaper article from November 2022 when the proposed sculptures for Made from this Land were going through planning permission. The Echo asked the artist to respond a few times to the ongoing issues around the sculptures and their sitings, but never printed her words. This edited newspaper article rectifies that.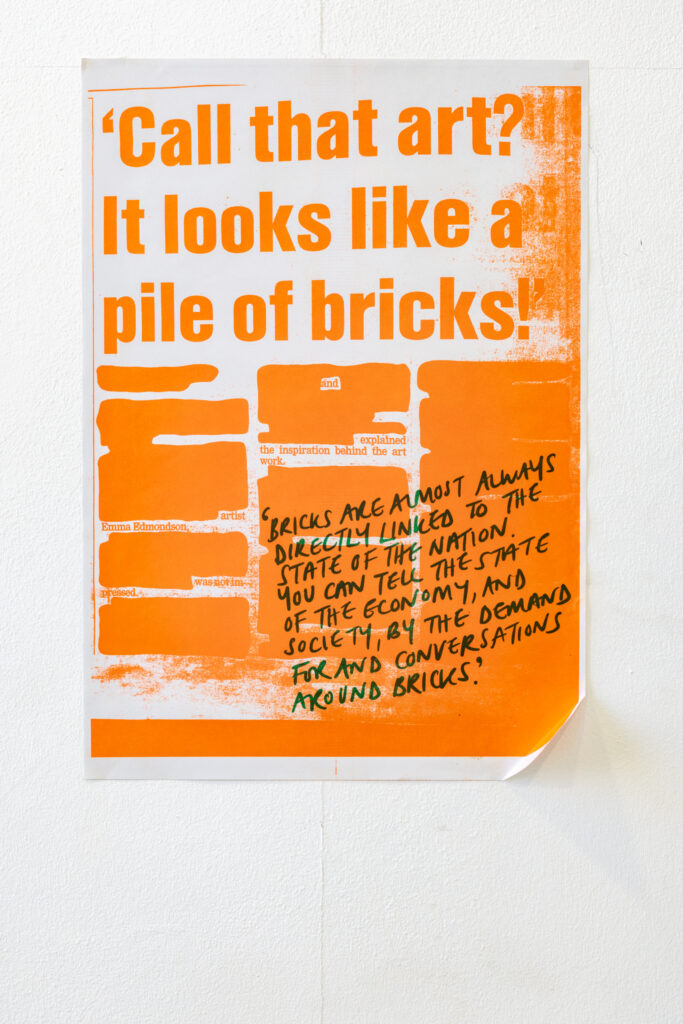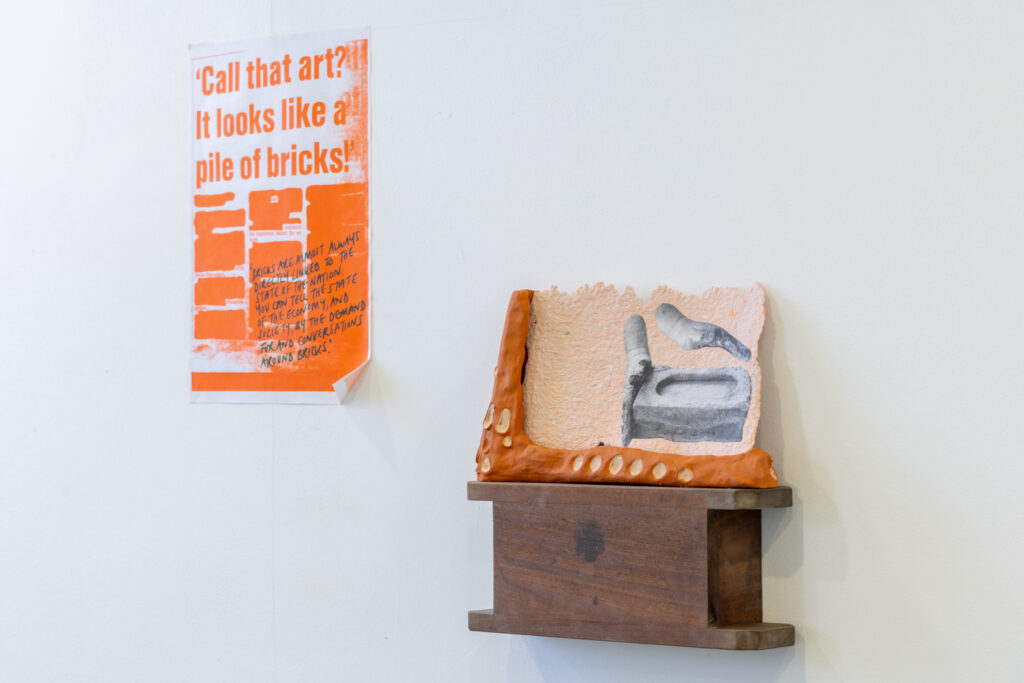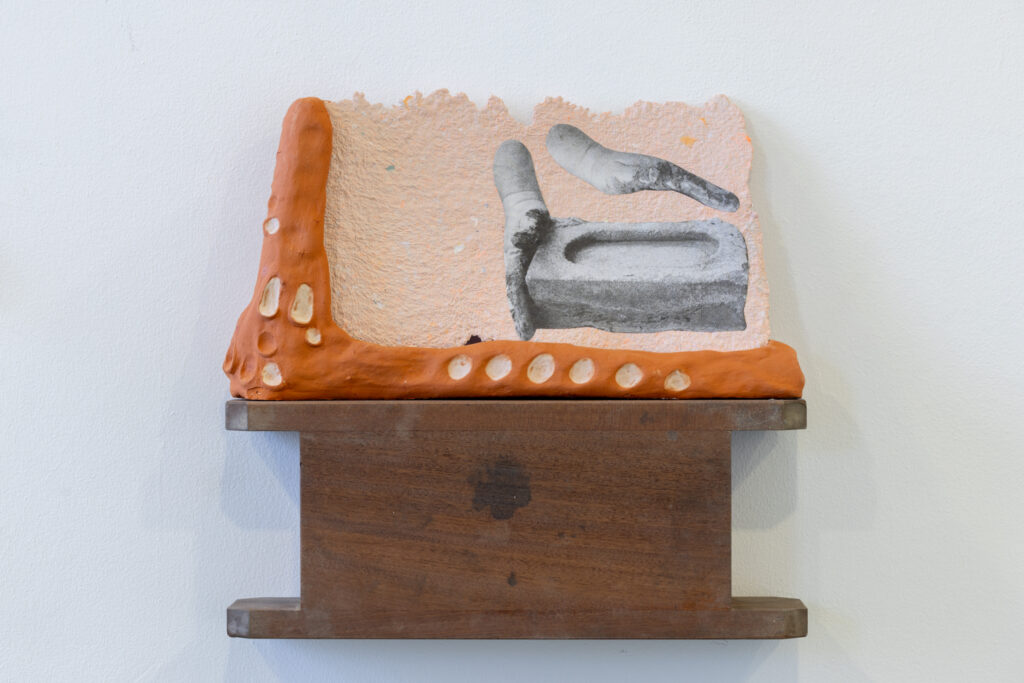 '(LABOUR OF LOVE) My skin is sandpaper, my nails crack off, bones aching, my knees click in new ways when I move'
Weathered Southchurch Park East clay frames, handmade paper, risograph print collages and sapele wood brick moulds. (2023)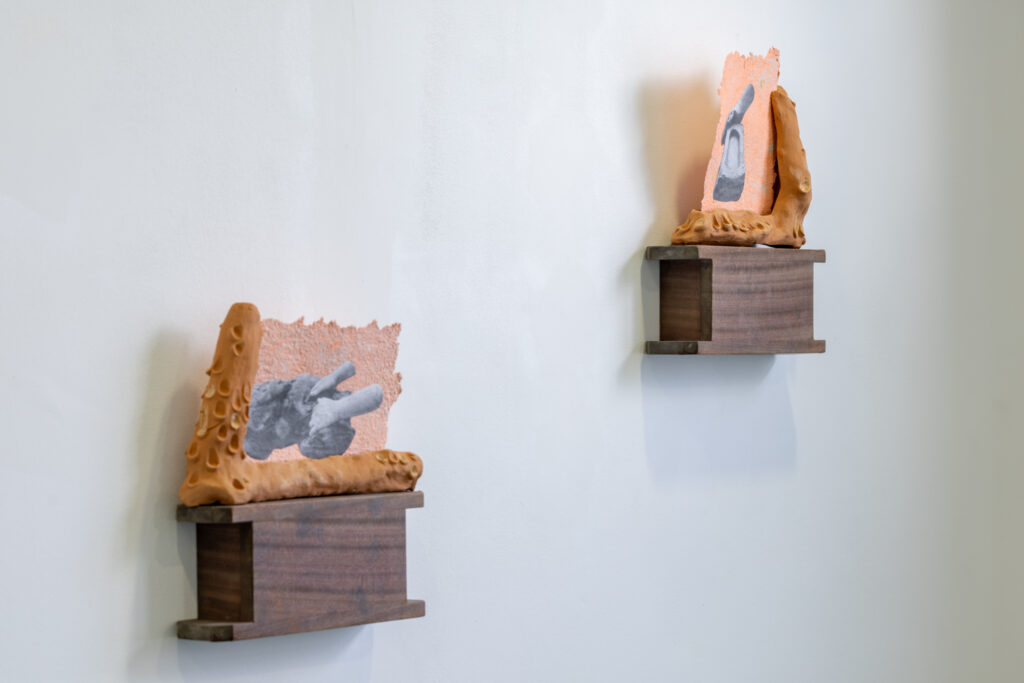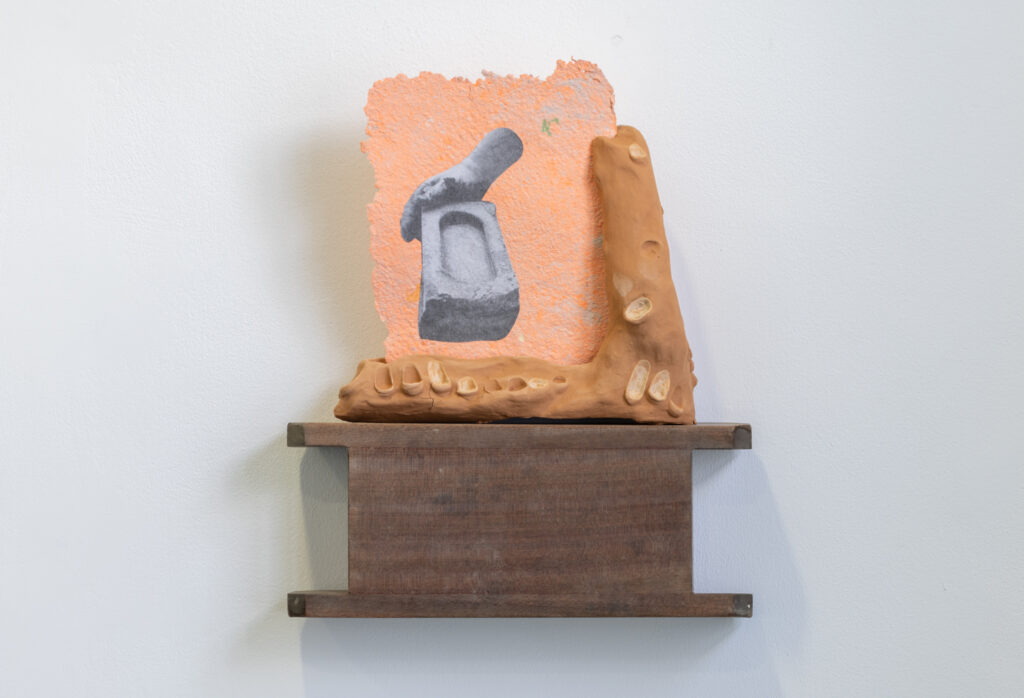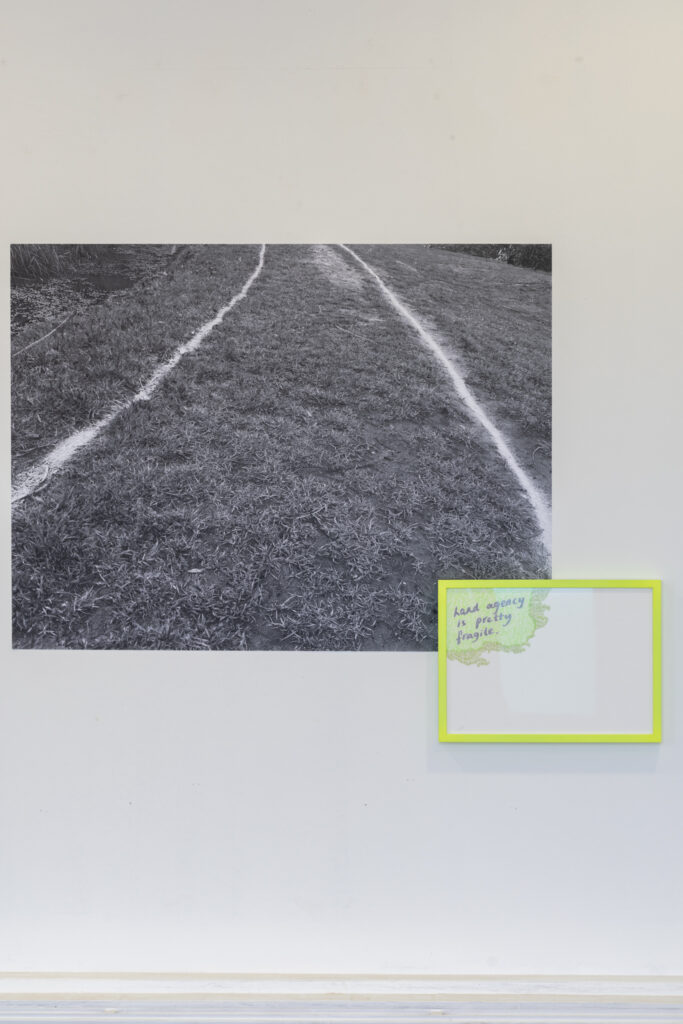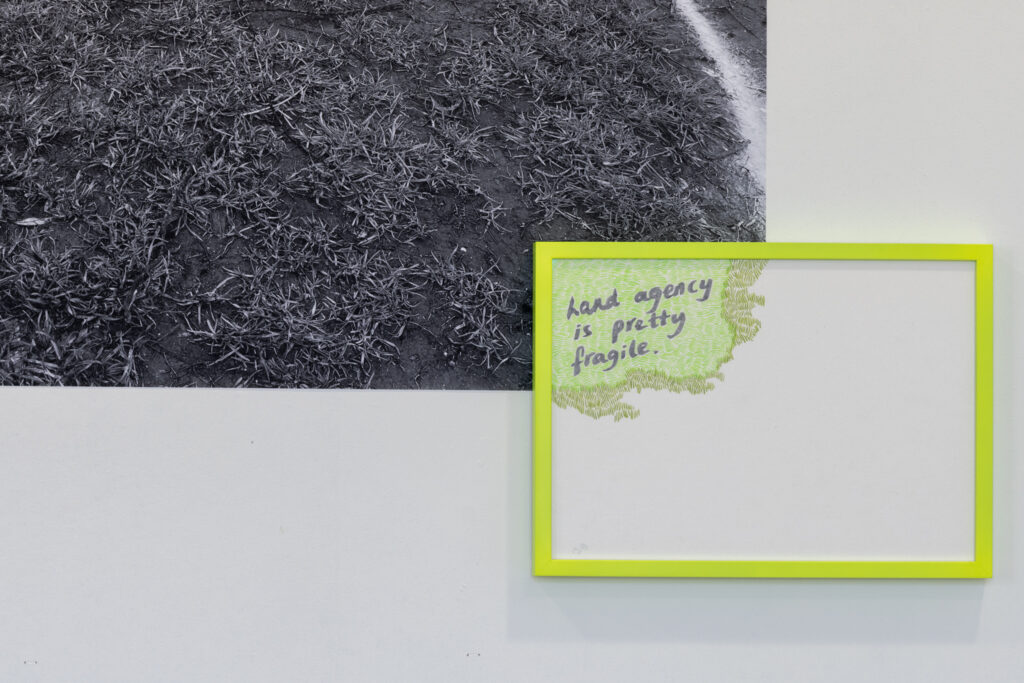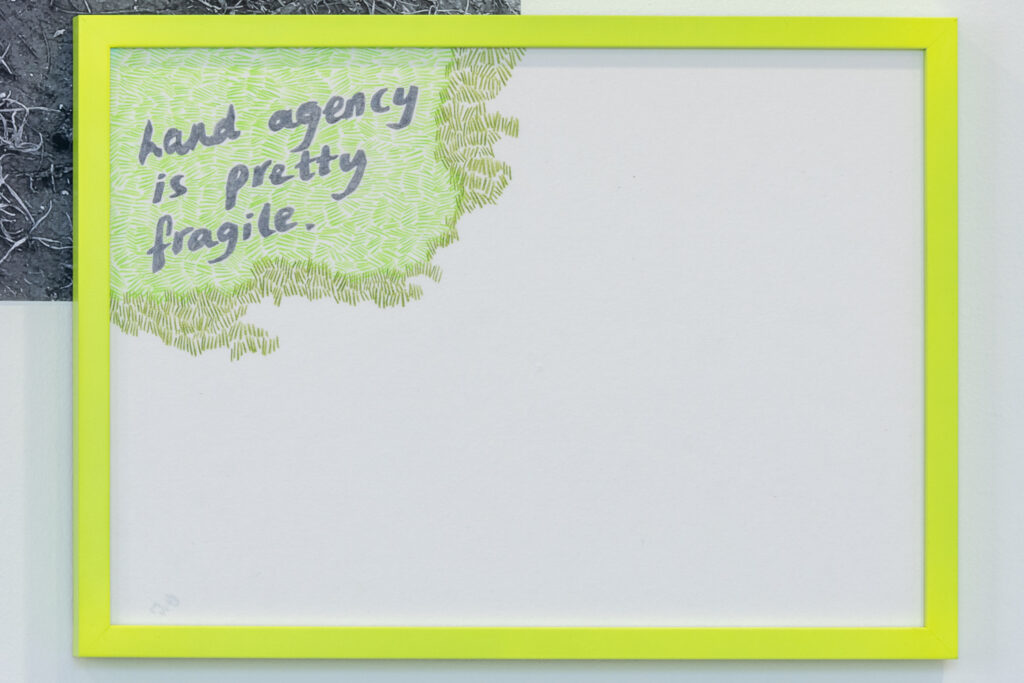 'Land Agency Is Pretty Fragile'
Digital poster print of Thorpe Bay golf course public right of way, Faber-Castell pencil, Ho-Sho paper, neon yellow frame. (2023)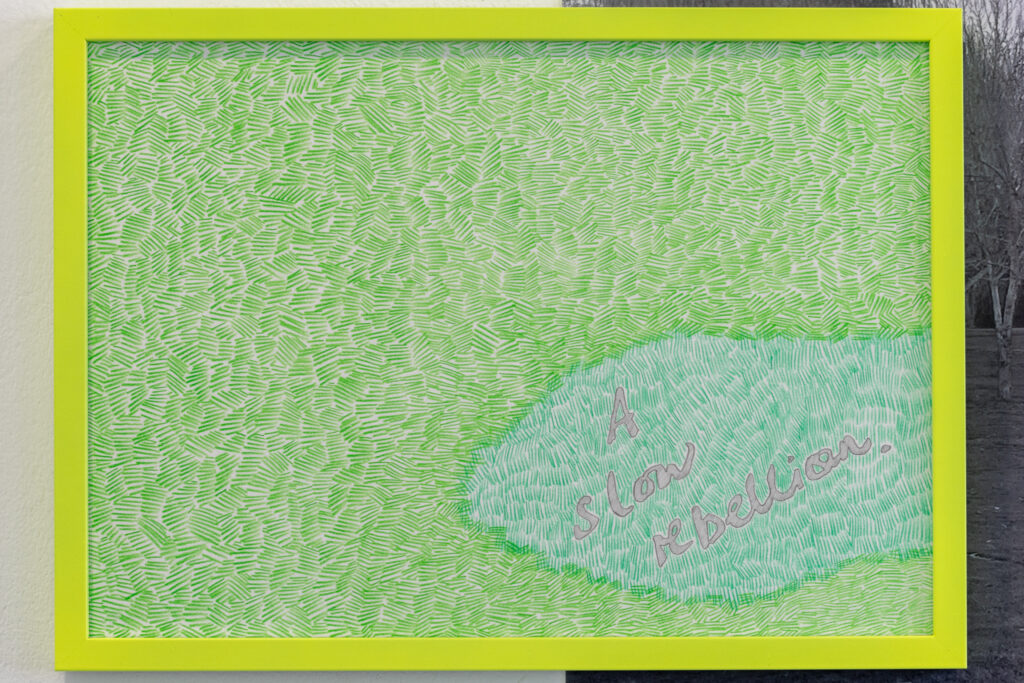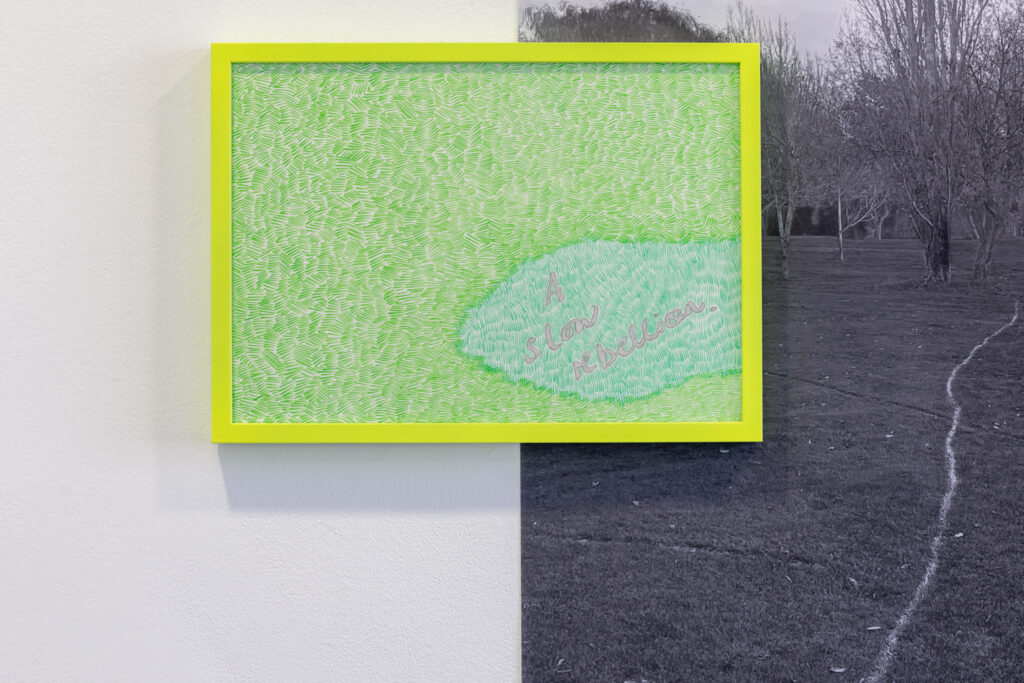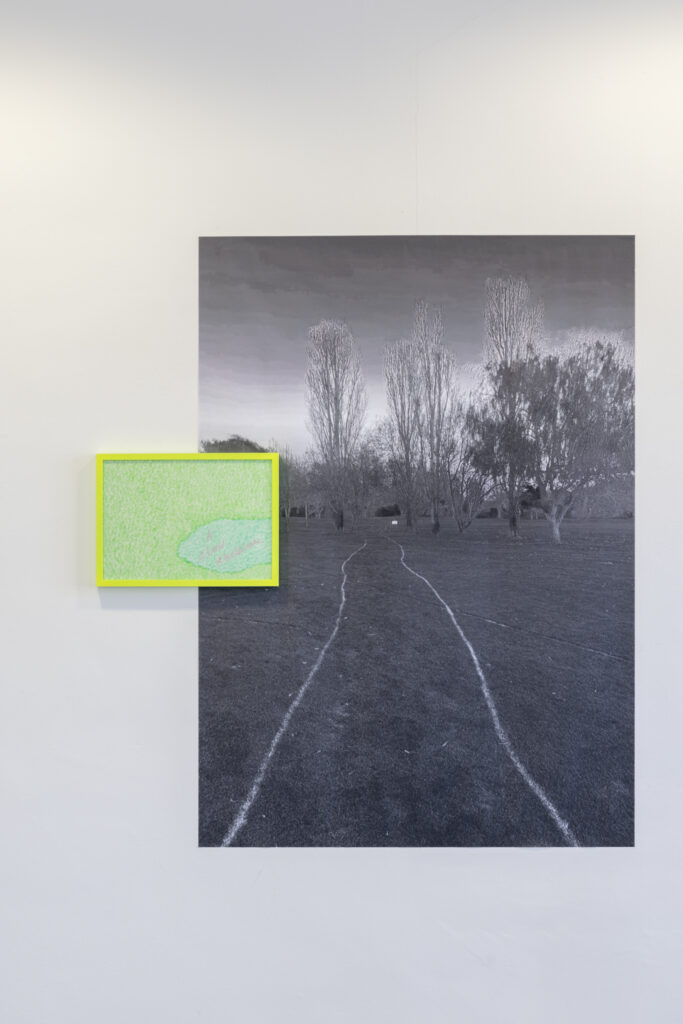 'A Slow Rebellion'
Digital poster print of Thorpe Bay golf course public right of way, Faber-Castell pencil, Ho-Sho paper, neon yellow frame. (2023)